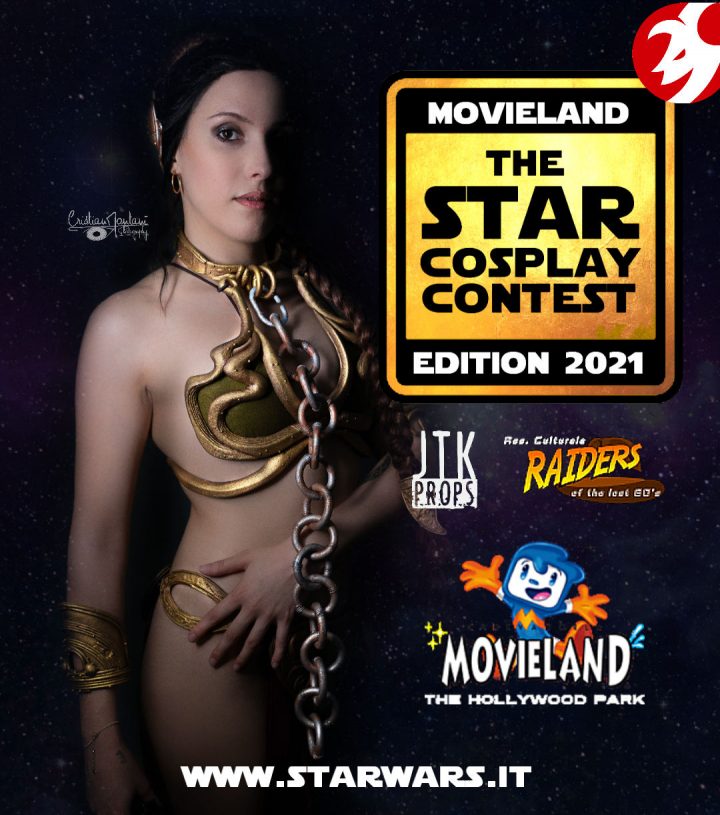 26 Settembre 2021: Star Cosplay Contest Movieland Edition: dalle ore 15.00, la Gara Cosplay dedicata a tutti gli appassionati della Galassia di George Lucas!
Questo lungo periodo di "stasi" non è riuscito a frenare la Creatività di tutti gli appassionati italiani del fenomeno Cosplay: Movieland, JTK Events e Prop, in collaborazione con Satyrnet, StarWars.it e Raiders of Lost '80 saltano dell'iperspazio della rete per connettere finalmente dal vivo tutti i Cosplayer appassionati di Guerre Stellari in questo divertente Contest "DAL VIVO" dedicato, esclusivamente ai costumi ispirati ai personaggi della saga creata oltre 40 anni fa da George Lucas!
Saranno premiate le seguenti categorie (per il regolamento completo e per scaricare le liberatorie, clicca qui).
MIGLIOR COSPLAY – PREMIO PALPATINE
MIGLIOR GRUPPO – PREMIO THE SQUAD
MENZIONE SPECIALE – PREMIO SKYWALKER
PREMIO SIMPATIA – JAR JAR AWARD
MIGLIOR PERFORMANCE LIGHT SABER – PREMIO THE FORCE
MIGLIOR COSPLAY UNDER 14 – PREMIO THE CHILD
L'evento del 26 Settembre, nel pomeriggio (rimane sintonizzati per ulteriori info) sarà presentato da Gianluca Falletta, il papà del Cosplay in Italia e da Riccardo Rossetti, presidente di Raiders of Lost '80: l'evento avrà come madrina d'eccezione Sonia Pinciaroli, in arte Lilit Cosplay (di cui vedete lo splendido scatto di Cristian Montani nella copertina di questo contenuto).
Il Cosplay contest si svolgerà nell'ambito dell'Evento "Guerre Stellari Gathering la minaccia del Movieland", la manifestazione ispirata all'universo starwarsiani, che si svolgerà il 25 e 26 settembre 2021 presso il parco tematico Movieland. Questo evento Stellare è diventato negli anni un must per gli appassionati e non solo: fan di Guerre Stellari preparate costumi e spade laser e venite a celebrare una delle saghe cinematografiche più amate della storia.
Per festeggiare questo evento, Movieland ha concesso a tutti coloro che si presenteranno in costume alle biglietterie del parco un prezzo speciale di 25,00 per il biglietto d'ingresso.
(da leggere con attenzione!)
Acquista con Satyrnet ci aiuterai a crescere!!!!!
Categories: COSPLAY, Eventi, Parchi Divertimento, Satyrnet, STAR WARS