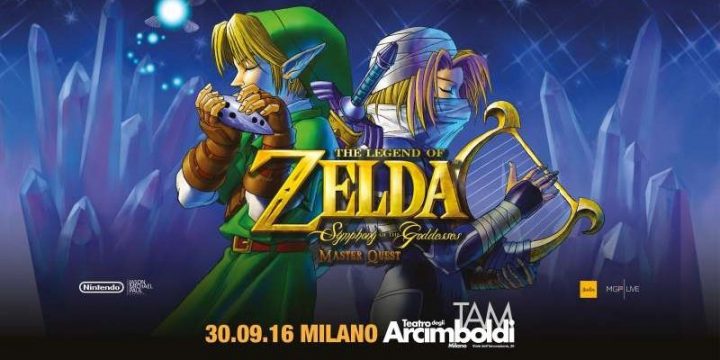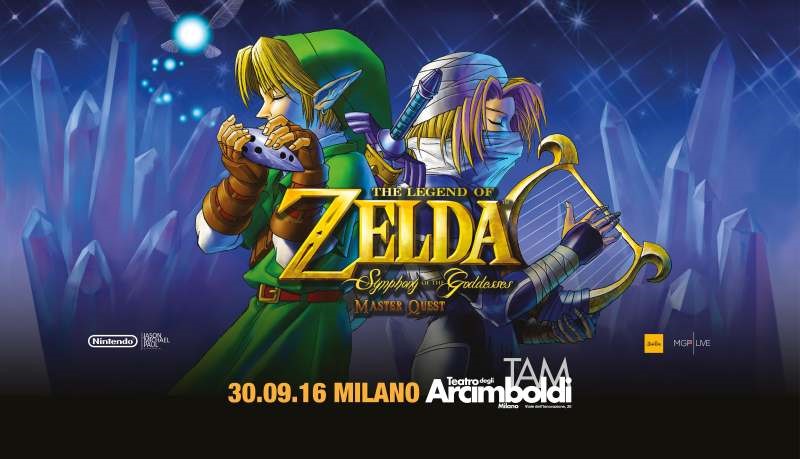 Dopo il tutto esaurito della scorsa stagione torna, per un'unica data italiana, il concerto evento The Legend of Zelda: Symphony of the Goddesses – Master Quest. In questo tour 2016 il concerto si presenta con un'edizione rinnovata e arricchita di nuove musiche e immagini tratte dall'ultimo gioco della saga "The Legend of Zelda: Tri Force Heroes", creato da Nintendo per la famiglia 3DS, e dai recenti Twilight Princess HD e Skyward Sword. Queste novità si uniranno al repertorio classico dello show che porta in scena le colonne sonore originali del celebre videogioco insieme alla proiezione delle suggestive immagini della saga.
Un'imponente orchestra di 90 elementi sarà diretta per la prima volta dal M° Giacomo Loprieno, già noto al grande pubblico per aver fondato nel 2009 la Ensemble Symphony Orchestra con la quale ha accompagnato alcune tra le più importanti star nazionali e internazionali in occasione dei loro tour (Andrea Bocelli, Gianna Nannini, Il Volo, Sting, Kylie Minogue, Robbie Williams, Sam Smith, Burt Bacharach, Nile Rodgers e molti altri).
In attesa dell'arrivo del nuovo capitolo della saga, The Legend of Zelda: Breath of the Wild, previsto nel 2017, il pubblico avrà ancora una volta la possibilità di rivivere la storia dell'incredibile serie di videogiochi attraverso le indimenticabili composizioni del Maestro Koji Kondo, autore, tra le altre, delle musiche di Super Mario Bros e Star Fox.
La tappa italiana del 30 settembre al Teatro degli Arcimboldi di Milano fa parte di un lungo tour mondiale che solo da giugno a dicembre 2016 ha in progetto di toccare più di sessanta città tra Nord America e Europa. Il tour, prodotto da Jason Michael Paul per Nintendo, è organizzato dal producer italiano Massimo Gallotta che, per la data italiana, collabora con l'agenzia Show Bees come promoter locale. Per informazioni sul tour: http://zelda-symphony.com/pages/schedule 
The Legend of Zelda, creata da Shigeru Miyamoto, ha venduto 68 milioni di copie in tutto il mondo ricevendo riconoscimenti quale migliore serie videoludica di sempre. La saga è il fiore all'occhiello della casa di produzione Nintendo che dal 1983 è leader mondiale nella creazione e nello sviluppo di intrattenimento interattivo. Con 4,3 miliardi di videogiochi e più di 680 milioni di unità hardware in tutto il mondo ha creato icone come Mario™, Donkey Kong™, Metroid™, Zelda™ e Pokémon™.
INFORMAZIONI E BIGLIETTI 
Platea Bassa VIP                                           € 85,00 + € 9,00 prev.
Platea Bassa                                                   € 75,00 + € 8,00 prev.
Platea Alta                                                      € 65,00 + € 7,00 prev.
I Galleria                                                          € 55,00 + € 6,00 prev.
II Galleria                                                         € 40,00 + € 4,00 prev.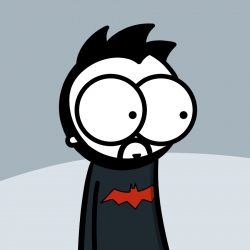 Latest posts by Mirko Martorello
(see all)
Acquista con Satyrnet ci aiuterai a crescere!!!!!