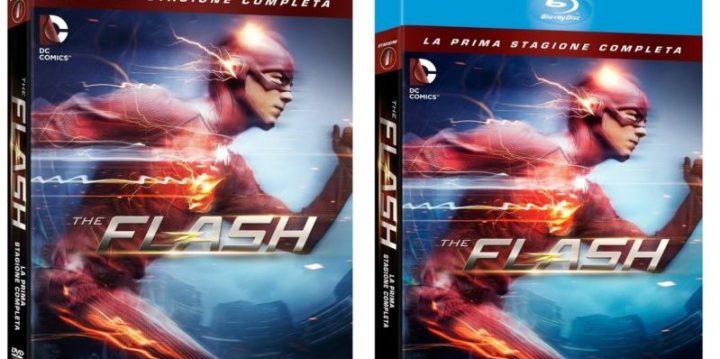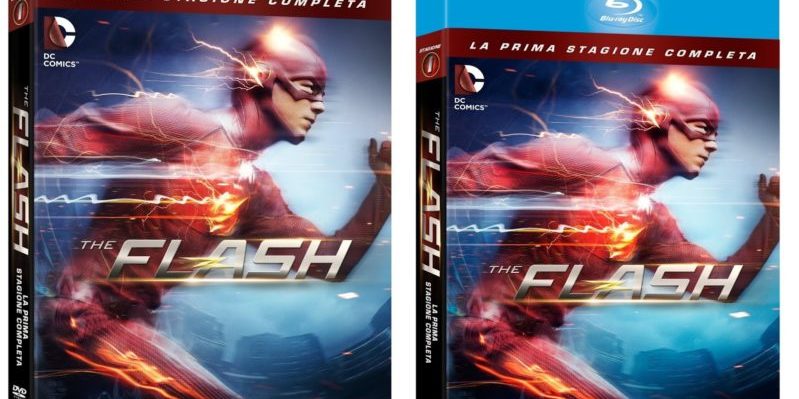 Il ragazzo più veloce del mondo ritorna con The Flash – La Seconda Stagione Completa, andata in onda a Gennaio 2016 su Italia 1, arriva finalmente dal 17 Novembre in DVD e Blu-ray™ distribuita da Warner Bros. Entertainment Italia.
The Flash – La Seconda Stagione Completa, serie spin-off di Arrow e sviluppata dagli stessi creatori, Greg Berlanti, Marc Guggenheim e Andrew Kreisberg, vede nuovamente come protagonista Gran Gustin (Barry Allen/The Flash). Al suo fianco ritroviamo Danielle Panabaker (Caitlin Snow), Tom Cavanagh (Harrison Wells), Candice Patton (Iris West), Keiynan Lonsdale (Wally West), Carlos Valdes (Cisco Ramon) e Jesse L. Martin (Detective Joe West).
Nella seconda stagione di The Flash il protagonista deve confrontarsi con la verità emersa nel precedente finale di stagione. Avendo scoperto la presenza del Multiverso, Barry si rende subito conto che pericoli e minacce posso arrivare anche da universi differenti da quello in cui lui si trova. Non passerà molto, infatti, prima che un'orda di criminali provenienti da un'altra dimensione, chiamata Terra-2, invada Central City.
Capitanati dallo spietato metaumano Zoom, più forte e veloce del nostro eroe, inizieranno a mettere in atto un piano con lo scopo di distruggere il Multiverso stesso.
The Flash – La Seconda Stagione Completa include nella sua versione Home Video i due episodi crossover Leggende di Oggi e Leggende di Ieri dove appaiono insieme Flash, Arrow e, per la prima volta, i personaggi di DC's Legends of Tomorrow.
Sia il DVD, sia il Blu-ray sono inoltre arricchiti da esclusivi contenuti speciali tra cui due approfondimenti sugli episodi crossoer, le gag, le scene eliminate e un interessantissimo dietro le quinte sulla creazione degli effetti visivi che ci permetteranno di esplorare più a fondo l'universo del Velocista Scarlatto.
SINOSSI
Colpito dall'esplosione di un acceleratore di particelle, lo scienziato forense Barry Allen diventa l'uomo più veloce del mondo: The Flash! Con l'aiuto dei suoi amici del laboratorio S.T.A.R. – Caitlin Snow, Cisco Ramon e Harrison Wells – e della sua famiglia adottiva, il detective Joe West e sua figlia Iris, il Velocista Scarlatto accerchia i metaumani che voglio devastare Central City mentre viaggia tra universi sconosciuti e protegge il nostro pianeta da un nemico ultraterreno di nome Zoom.
Le avventure continuano, veloci come fulmini, nella seconda stagione di The Flash.
CONTENUTI SPECIALI
Il DVD ed il Blu-ray di The Flash – La Seconda Stagione Completa contengono i seguenti contenuti speciali:
Approfondimenti sui due episodi crossover:
Star-Crossed Hawks

Star-Crossed Hawks: The Hunt For Vandal Savage
Behind-The-Scenes Vfx – Scopri Gli Effetti Visivi Su Una Selezione Di Episodi
13 Inseriti tra cui Many Faces Of Zoom E Chasing Flash: The Journey Of Kevin Smith
The Flash: 2015 Comic-Con Panel
Scene Eliminate
Le Gag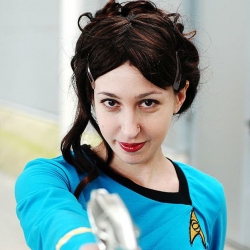 Latest posts by Maria Merola
(see all)
Acquista con Satyrnet ci aiuterai a crescere!!!!!
Categories: Articoli, Cinema & Tv