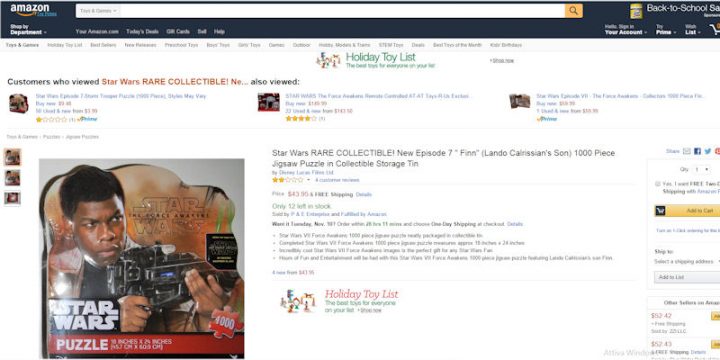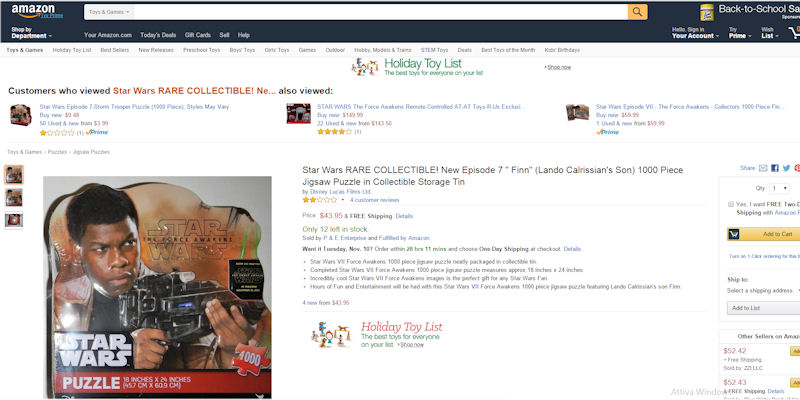 Doveva succedere: con migliaia di gadget già in vendita negli store del nuovo film di Star Wars: The Force Awakens qualcuno doveva fare un errore. Ed ecco che su Amazon.com. spunta fuori un puzzle dedicato a Finn, figlio di Lando Calrissian. Cosa? Come? Figlio di chi?
Qualche giorno fa, già girava su Facebook un'immagine (la trovate cliccando qui, sulla nostra pagina) si scherzava sul fatto che Lando, per un accesso di protezione nei confronti di Leia, abbia preso alla lettera la richiesta di Han di "prendersene cura" durante la sua prigionia nella carbonite … ciò spiegherebbe anche l'attitudine di Finn nell'uso della lightsaber. Ma sarà vero? oppure è un'astuta mossa di marketing per depistare gli appassionati o per vendere a caro prezzo un simpatico gioco tutt'altro che raro…
Questa la descrizione incriminata: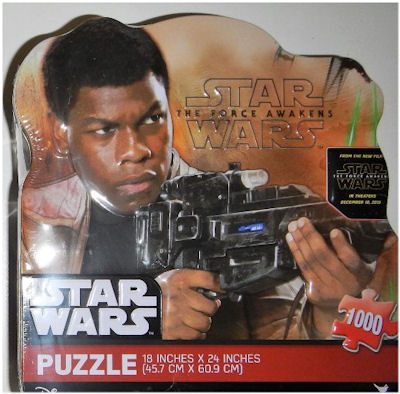 Star Wars VII Force Awakens 1000 piece jigsaw puzzle neatly packaged in collectible tin.

Completed Star Wars VII Force Awakens 1000 piece jigsaw puzzle measures approx 18 inches x 24 inches

Incredibly cool Star Wars VII Force Awakens images is the perfect gift for any Star Wars Fan

Hours of Fun and Entertainment will be had with this Star Wars VII Force Awakens 1000 piece jigsaw puzzle featuring Lando Calrissian's son Finn.
Se volete vedere con i vostri occhi questo strano puzzle da 1000 pezzi, perfetto regalo per ogni fan di Star Wars, ecco l'indirizzo diretto:
http://www.amazon.com/COLLECTIBLE-Episode-Calrissians-Collectible-Storage/dp/B0153YLTIY
Strano? si perchè secondo noi si tratta di un bel fake, come anche suggerito dagli stessi utenti del colosso di vendita online sulle recensioni del prodotto. La cosa strana è che sullo stesso Amazon, il puzzle del fantomatico figlio di Lando è in vendita a meno di 10 dollari in questo altro annuncio (senza lo strano titolo di "figlio di Lando Calrissian"):
http://www.amazon.com/Star-Wars-Episode-7-Storm-Trooper/dp/B0102AEFAS/
Aspettiamo i vostri commenti per capire se è esiste un figlio di Lando o se questo venditore è semplicemente un figlio di bona wookie!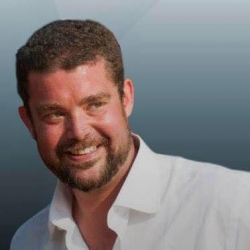 Latest posts by Gianluca Falletta
(see all)
Acquista con Satyrnet ci aiuterai a crescere!!!!!
Categories: Cinema & Tv, Gadget & Hi-Tech, STAR WARS