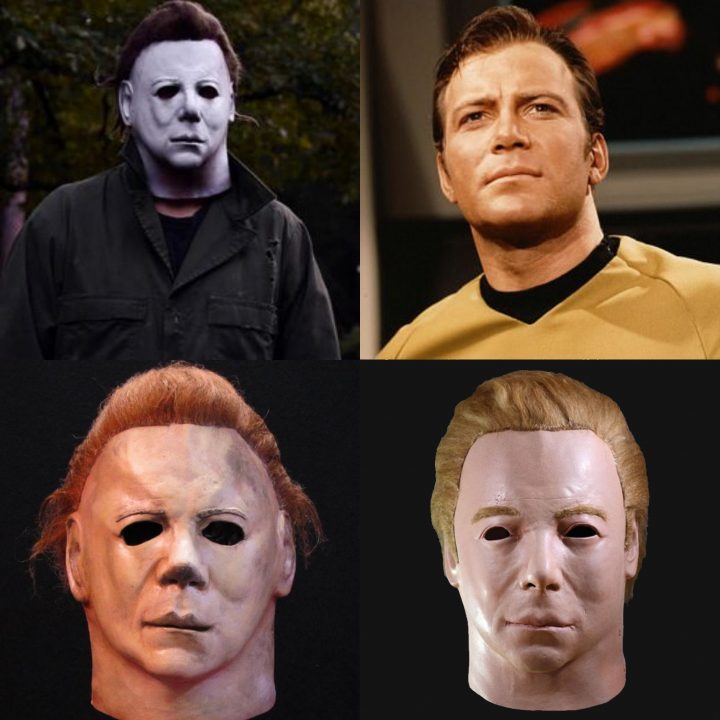 Che cosa accomuna uno dei serial killer più longevi della storia del cinema con una delle facce più iconiche della fantascienza? Oggi faremo un mini approfondimento su di una chicca del cinema che forse in pochi conoscono e che non ci permetterà di vedere con gli stessi occhi di prima due pietre miliari del cinema e della tv.
"Spazio: Ultima Frontiera" con questo incipit iniziava una delle serie classiche degli anni '60, Star Trek, ma in pochi sanno che fu proprio questa serie a dare vita al "VOLTO" di un altro mostro sacro dell'horror. Nel 1975 una nota casa di produzione di maschere per halloween creò, sull'onda del successo televisivo, la maschera del Capitano Kirk. Questa ebbe un enorme successo all'uscita e per parecchi anni ogni bambino che aveva sognato di voler viaggiare a bordo dell'Enterprise, aveva esaudito un piccolo sogno nel cassetto, ma nessuno si sarebbe mai aspettato che quello stesso successo si sarebbe potuto triplicare grazie ad un piccolo "make up" che l'avrebbe trasformata nel 1978 in una della maschere più iconiche dei film horror.
Fu grazie a John Carpenter che, per vestire il suo serial killer Michael Mayers nella serie di Halloween, scelse degli abiti da meccanico e di coprirgli il viso dipingendo di bianco la faccia del nostro amato Kirk, per farlo diventare uno spietato assassino dal volto inespressivo che semina morte e panico nella sua città natale: Haddonfield. Carpenter ha raccontato in un'intervista:
«Siamo andati in un negozio di maschere su Hollywood Boulevard, abbiamo acquistato la maschera del Capitano Kirk, l'abbiamo colorata con lo spray e ingradito l'apertura degli occhi. E quella è diventata la maschera di Michael.»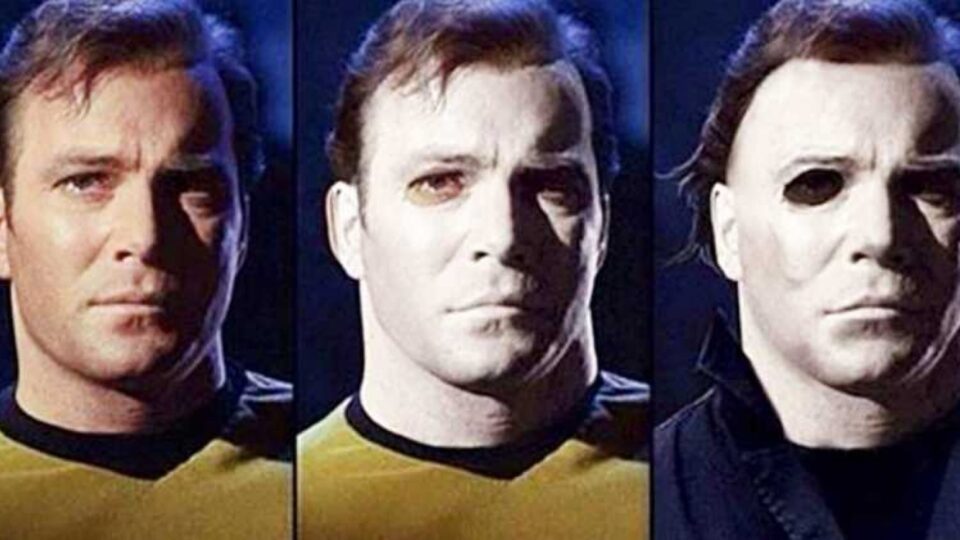 Fu probabilmente questa mancanza di espressività della maschera a convincere Carpenter; non che il volto del nostro amato William Shatner, interprete del Capitano Kirk, non ne avesse, ma la sua riproduzione in latex evidentemente aveva questa peculiarità, che ha permesso al fenomeno di Michael Mayers di spopolare negli anni '80 e di durare oltre 40 anni, con ben otto remakes (uno in arrivo quest'anno) e 2 reboot della saga. Ad oggi, le maschere originali del nostro amato Kirk si trovano a prezzi non troppo elevati e molti collezionisti le comprano per poi trasformarle nell'originale prima maschera di Michael Mayers. Su YouTube ci sono interi canali dedicati ai metodi di trasformazione da capitano dell'Enterprise a maniaco omicida.
Adesso immaginate il Capitano Kirk, con la sua maschera pittata di bianco e un coltello da cucina affilatissimo, aggirarsi per i corridoi di una delle astronavi più famose del cinema e della tv, con in sottofondo la musica ansiogena, magistralmente scritta e suonata dallo stesso Carpenter, che ha accompagnato per 40 anni gli efferati omicidi del nostro Mayers.  Lunga Vita e Prosperità… forse non così lunga…
Riccardo Rossetti
tratto da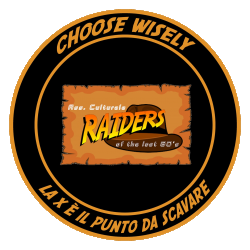 Latest posts by Raiders of the lost 80s
(see all)
Acquista con Satyrnet ci aiuterai a crescere!!!!!
Categories: Cinema & Tv, Glorie Nerd Vintage