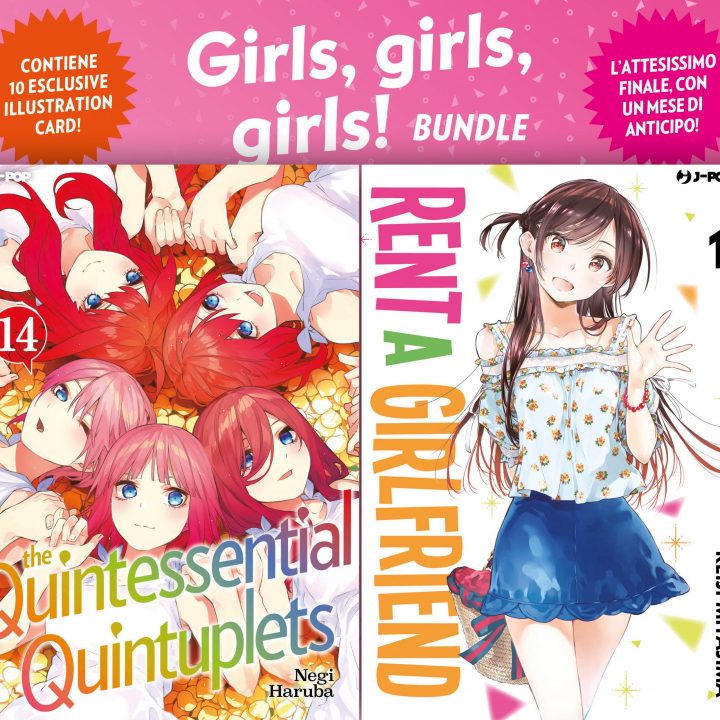 Dal 24 febbraio disponibile in libreria, fumetteria e negli store online l'atteso primo volume di Rent a Girlfriend, e l'anticipatissimo finale di The Quintessential Quintuplets in super anteprima in un Bundle dedicato alla commedia romantica, Girls Girls Girls!
All'interno del bundle insieme al primo volume di Rent a Girlfriend e l'ultimo volume di The Quintessential Quintuplets, disponibili singolarmente solo il 3 marzo il primo e il 10 marzo il secondo, sono presenti dieci illustration card di grande formato dedicate ai due titoli, cinque ciascuno, e trenta giorni di free trial per Crunchyroll Premium. Di seguito le sinossi dei due titoli:
Rent A Girlfriend
Quando Kazuya viene lasciato dalla sua ultima fidanzata, si sente così disperato da… rivolgersi a un servizio online per affittarne una nuova su misura! Incontra così Chizuru, una fanciulla tanto carina e dolce da non crederci. Sarà davvero oro quello che luccica o nella "vita reale" Chizuru potrebbe non essere altrettanto amabile? Prosegue il nuovo fenomeno che ha sedotto tutti gli appassionati di commedia romantica, già trasposto in un anime di grande successo!
The Quintessential Quintuplets
La fortuna di Futaro, brillante liceale spiantato, sembra girare quando la famiglia Nakano lo assume come tutor per le sue cinque figlie: gemelle identiche, ma dalle personalità opposte, e tutte compagne di scuola del ragazzo! Futaro non sa che in futuro una di loro diventerà sua moglie! Quale sarà la sua destinata anima… gemella?!
Rent A Girlfriend 1
Di Reiji Miyajima
20 Volumi – Serie In Corso
Formato – 12X16,9 – Bross. Con Sovracc.
Pagine – 192, B/N
Prezzo – 5,90 €
Bimestrale
The Quintessential Quintuplets 14
Di Negi Haruba 14 Volumi – Serie Completa
Formato – 12X16,9 – Bross. Con Sovracc.
Pagine – 208, B/N
Prezzo – 5,90 €

Latest posts by Enrico Ruocco
(see all)
Acquista con Satyrnet ci aiuterai a crescere!!!!!
Categories: AULAMANGA, Books + Comics