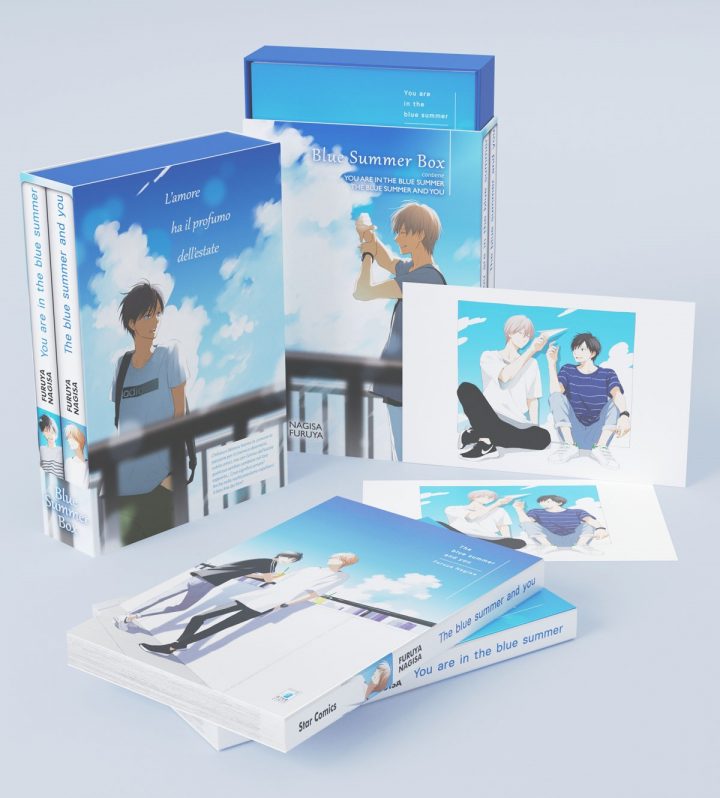 BLUE SUMMER BOX. I due volumi YOU ARE IN THE BLUE SUMMER e THE BLUE SUMMER AND YOU in un cofanetto da collezione In fumetteria, libreria e store online dal 3 febbraio.
Una profonda amicizia, una passione in comune e un sentimento dolce e tenero, che sboccerà pian piano nel cuore dei due protagonisti: sono questi gli ingredienti del nuovo Boys' Love targato Star Comics, in arrivo il 3 febbraio nella collana Queer. Il volume YOU ARE IN THE BLUE SUMMER e il sequel THE BLUE SUMMER AND YOU – firmati da Nagisa Furuya – saranno disponibili in un box esclusivo, contenente anche una speciale cartolina da collezione.
I liceali Chiharu e Wataru condividono una grande passione per il cinema, grazie alla quale diventano ben presto molto amici. L'arrivo dell'estate e l'inaspettata dichiarazione di Chiharu cambiano però le carte in tavola, tanto che il rapporto tra i due ragazzi non sarà più lo stesso. Cos'è l'amore? Cosa significa amare qualcuno? La loro storia avrà un lieto fine come nei film?
Un arrivo, quello di YOU ARE IN THE BLUE SUMMER e di THE BLUE SUMMER AND YOU, atteso con molta impazienza dai fan italiani del genere Boys' Love e che siamo felici di celebrare attraverso un'edizione completa anche di alcuni capitoli speciali (pubblicati in patria separatamente dai tankobon), disponibili direttamente all'interno dei volumi.
Romantico e travolgente come l'estate, il manga di Nagisa Furuya racconta la nascita di una storia d'amore forte e impetuosa, ma al contempo delicata e sensibile. Il complesso percorso di accettazione dei propri sentimenti da parte di Wataru e la paura di un rifiuto, sperimentata da Chiharu, ricordano le difficoltà nei rapporti spesso affrontate dai giovani nella vita di tutti i giorni, e permettono ai lettori di immedesimarsi completamente nei due protagonisti.
Una vera boccata d'aria fresca, una dolce storia d'amore adatta a tutti – ai lettori di BL ma anche a chi non si è ancora avvicinato a questo genere – che sarà possibile leggere tutta d'un fiato, grazie all'uscita in contemporanea dei due volumi, raccolti nel BLUE SUMMER BOX, disponibile dal 3 febbraio.
L'AUTORE
Nagisa Furuya si avvicina al mondo del fumetto realizzando una serie di opere autoprodotte ispirate a Gintama. Nel 2014 inizia la sua carriera come mangaka nella casa editrice Ichijinsha pubblicando Number Call nella rivista Gateau, ma il vero successo arriva nel 2017 con Kimi wa natsu no naka (You are in the blue summer), vincitore anche del primo premio nella categoria "Book Cover" ai Chil Chil BL Awards 2018 e da cui verrà poi elaborato un secondo volume, Kimi to natsu no naka (The blue summer and you). Tra le sue altre opere troviamo Gunjou no Subete (2015), Hoshi Dake ga Shitteru (2016) e Futari no Lion (2017).
DATI DEL BOX
BLUE SUMMER BOX (contiene YOU ARE IN THE BLUE SUMMER e THE BLUE SUMMER AND YOU e una cartolina)
Nagisa Furuya
13×18, B.,b/n e col., pp. 216+224, € 13,00
Data di uscita: 03/02/2021 in fumetteria, libreria e store online
Isbn 9788822621337

Latest posts by Enrico Ruocco
(see all)
Acquista con Satyrnet ci aiuterai a crescere!!!!!
Categories: AULAMANGA, Books + Comics