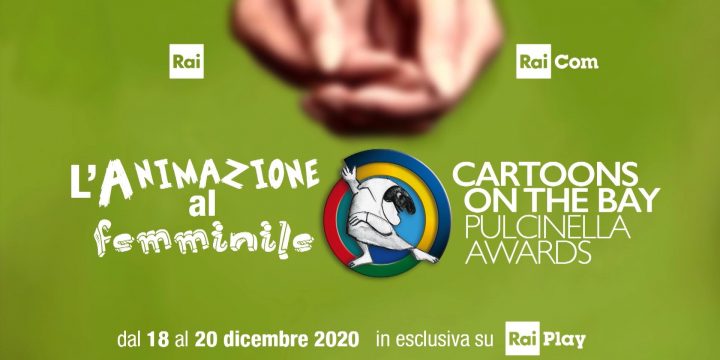 Dall'animazione al Femminile al Made in Italy. Dalle tendenze del settore dell'animazione alle interviste esclusive ai grandi artisti premiati da Cartoons on the Bay, come lo Studio dell'Anno, Hall of Fame e Career Awards.  Cartoons on the Bay è un festival internazionale che si svolge in Italia dedicato all'animazione televisiva, cinematografica e cross-mediale, fondato nel 1995 da Gianpaolo Sodano, che ne fu il primo presidente. Il suo scopo è di promuovere l'attività di autori e produttori di tutto il mondo, offrendo un'opportunità di incontro con compratori, distributori e responsabili televisivi.
Da venerdì 18 a domenica 20 dicembre RaiPlay sarà la casa di "Cartoons on the Bay 2020", il festival dell'animazione crossmediale e della TV dei ragazzi promosso dalla Rai e organizzato da Rai Com, in collaborazione con Rai Ragazzi e Rai Radio, quest'anno completamente in versione digital e che ha ricevuto nei giorni scorsi dal Quirinale la Medaglia di Rappresentanza del Presidente della Repubblica. In concorso lungometraggi, mediometraggi e cortometraggi provenienti da tutto il mondo, con cerimonia di premiazione online da sabato 19 dicembre alle 17. Ampio il programma professionale, con i panel "Cosa guardano i ragazzi? Strategie dei Broadcast Europei", "Un Mondo TV", "Il mondo di For Fun Media con Topo Gigio e Topo Tip", "Videogiochi e animazione", "Next minds making of", "Le novità di Rai Ragazzi" e ancora l'assegnazione del Premio Laganà. Tema dell'edizione è la tutela e la valorizzazione dell'universo femminile nel panorama dell'animazione internazionale. Numerosi gli appuntamenti in programma: "Women. Il nuovo storytelling", "Women in gaming", "Dal foglio all'azione eroine moderne nei fumetti e nelle serie tv", "L'universo femminile nel mondo dell'animazione", "Women in Animation. USA", "Women in Action Together! Europe". Ampia la retrospettiva delle opere, da "Sugar Love" (Laura Luchetti) a "Intramoenia" (Mad Entertainemt), da "La Ballata dei Senzatetto" (Monica Manganelli) a "Delitto Naturale" (Valentina Bertuzzi). "Cartoons on the Bay" consegnerà il Premio alla carriera a Francesco Tullio Altan, papà della Pimpa e aprirà la Hall of fame del Festival a due giganti dell'animazione, Guido Manuli, intervistato da Oscar Cosulich, e Don Bluth, protagonista delle masterclass "Draw as you please" e "The bouncing ball" nonché creatore del manifesto dell'edizione 2020 di "Cartoons". Il Premio studio dell'anno andrà invece a Cartoon Saloon, del quale sarà presentata un'ampia retrospettiva. Nel corso del Festival sanno annunciati anche i vincitori concorso Pitch Me 2020. Molti i film in visione unica a "Cartoons on the Bay", programmati su RaiPlay in date e orari stabiliti: "The secret of kells", "Song of the sea", "I viaggi del principe", "Phantom boy", "Un gatto a Parigi", "The breadwinner", "Sasha e il Polo Nord", "Arctic dog", "Trash", "La famosa invasione degli orsi in Sicilia".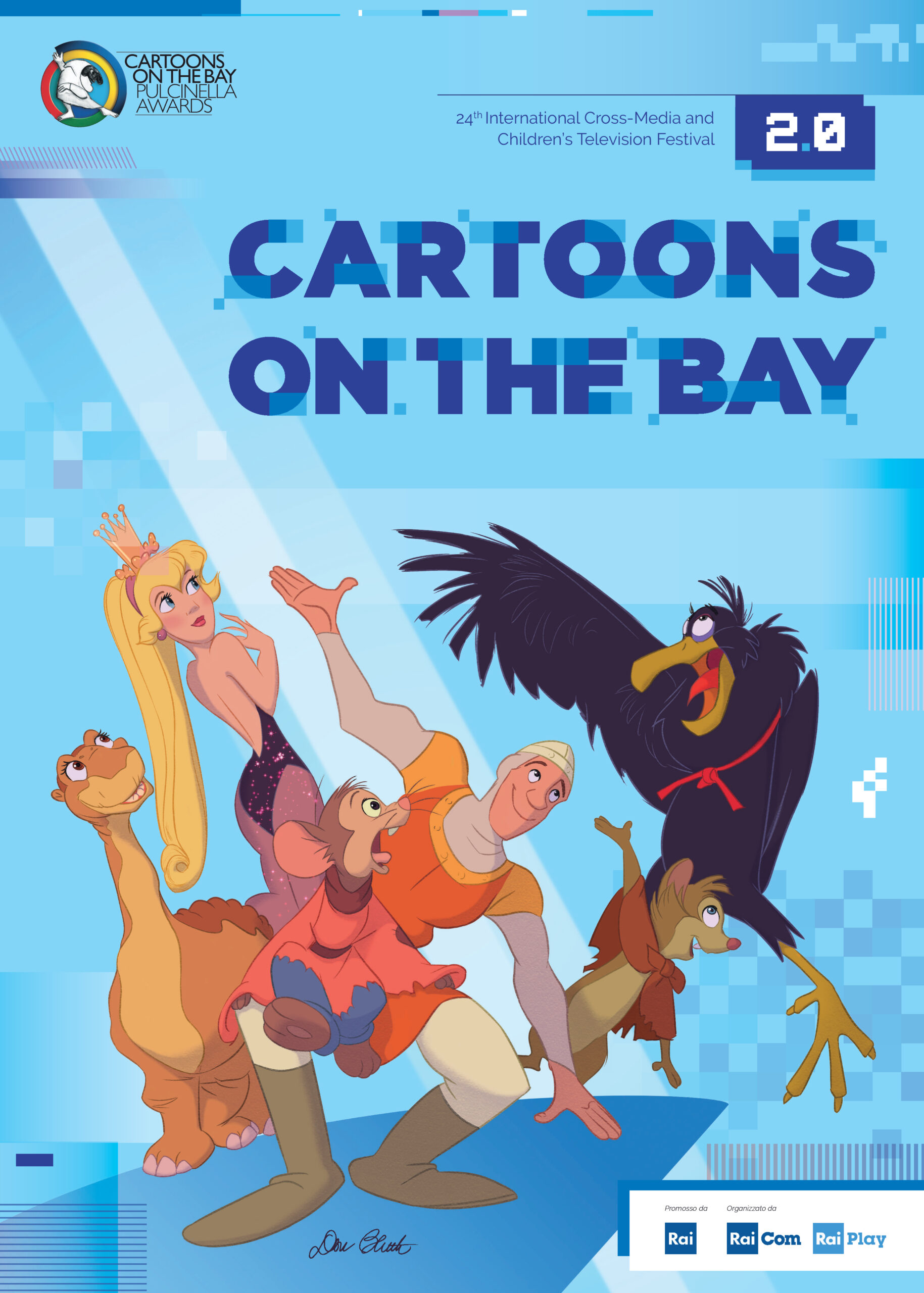 Sono state selezionate le 51 opere finaliste dell'edizione 2020 del Festival dell'Animazione Crossmediale e della Tv dei Ragazzi, promosso dalla Rai e organizzato da Rai Com in collaborazione con la Regione Abruzzo e i comuni di Pescara e L'Aquila, in programma a Pescara dal 3 al 5 dicembre. Cinque produzioni  in competizione per ogni categoria, 16 per la categoria Lungometraggi. Sono 20 i Paesi che prenderanno parte alla fase finale del concorso. Questi i lavori scelti dalla Giuria di preselezione tra le 350 opere pervenute.
Serie TV Preschool (2-4 anni)
Hey Duggee
Olobob Top
Take Flight
Lupin's Tales
Brave Bunnies
Serie TV Upper Preschool (4-6 anni)
Boris: The Tablete
Anittinha's Club
Fox and Hare
Splat & Seymour
Topo Gigio
Serie TV Kids (7-11 anni)
The Rubbish World of Dave Spud
Tig n' Seek
Big CIty Greens
Urban Legends
Coach me if you can
Opere Multimediali Interattive
Luigi's Mansion 3
The Outer Worlds
Death Stranding
MediEvil
Control
Serie TV Live Action/Ibridi
Game Crashers
Fumbleland!
Monstershop
Dino Dana
Endlings
Piloti di Serie TV
The Book of Dreams
We are Family
Fox Tales
Frieda Fox: the Windmachine
Tweetville
Cortometraggi
400 MPH
The Snail and the Whale
Dreams in the depths
The big wave
For a Fistful of Toffees
Lungometraggi
Sheep and Wolves: Pig Deal
Up Up & Up
Slick Rick
Vic the Viking and the Magic sword
Arctic Dogs
Alice-Miranda Friends Forever
Ejen Ali The Movie
The Swallows of Kabul
Buñuel in the Labyrinth of the Turtles
The Longleg
Raven the Little Rascal, Hunt for the Lost Treasure
The bears' famous invasion
Ville Neuve
The Prince's Voyage
Steven Universe: The Movie
Lava
Saranno invece 64, tra tutte le categorie, le opere scelte per la selezione fuori concorso Panorama Internazionale. Tra le opere finaliste verranno scelti anche i vincitori del premio UNICEF e del premio Migrarti Cartoon.
A decretare i vincitori tra le opere in gara sarà la Giuria internazionale formata da John Pomeroy (regista, disegnatore e sceneggiatore, art director), Annalisa Liberi (Responsabile prodotti di acquisto Rai Ragazzi), Marie-Claire Isaaman (Amministratore delegato di Women in Games), Patricia Vasapollo (Responsabile prodotti per famiglie e fiction HR/ARD) e Yago Fandiño (Direttore dei contenuti per i ragazzi di RTVE). A comporre la Giuria lungometraggi sono Stefania Ulivi (Giornalista del Corriere della sera), Arianna Finos (Giornalista La Repubblica) e Flavio Natalia (Direttore e giornalista di CIAK). Della Giuria del concorso Pitch Me fanno invece parte le autrici e disegnatrici Katjia Centomo e Valentina Bertuzzi e il Direttore di RaiPlay e Rai Digital Elena Capparelli.
Per tutte le altre notizie sull'edizione 2020 di  Cartoons on the Bay basterà consultare il  sito www.cartoonsbay.rai.it e le pagine social https://www.facebook.com/cartoonsonthebay e https://www.instagram.com/cartoonsonthebay/.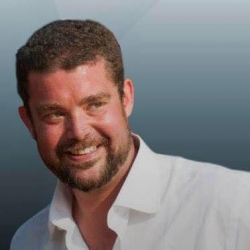 Latest posts by Gianluca Falletta
(see all)
Acquista con Satyrnet ci aiuterai a crescere!!!!!
Categories: Eventi